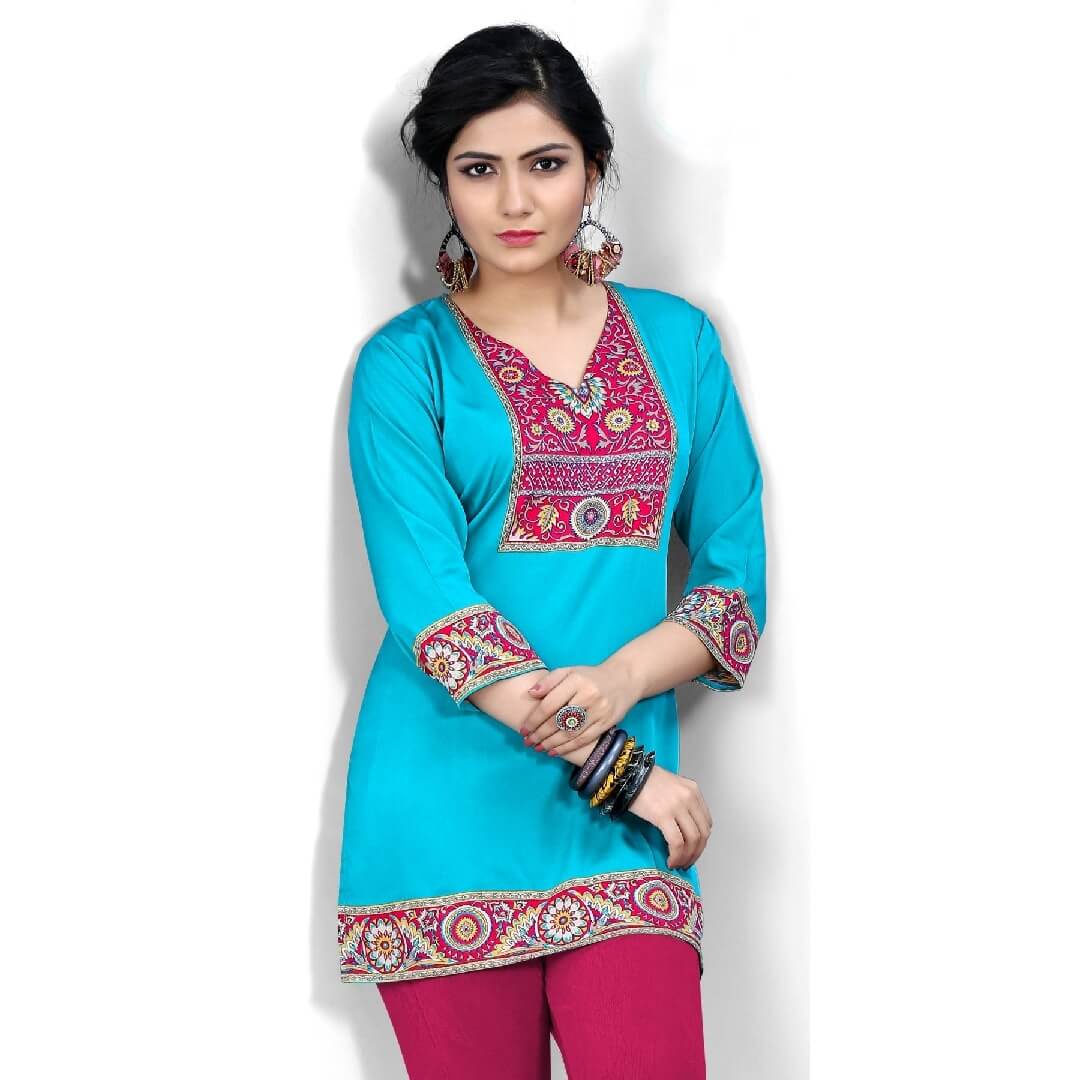 Enjoy FREE 24-hour shipping & 5-day delivery (48 states) . Discounted shipping worldwide.
No-risk purchase with hassle-free 30-day returns. .
Transparent and honest product listings. What you see is what you get.
Flexible payment options available: Credit cards, Paypal, and financing..
These Classic tunic tops are the perfect balance between American apparel, and Indian apparel; as they carry the style of American apparel, but the design of classic Indian apparel. These Tunic tops come in a range of colors, and sizes, so you can easily pick the one that fits you best. We are a clothing boutique that offers a range of fashion apparel, that includes tunics. These tunics are designed keeping in mind the latest fashion and color trends. You can easily wear these tunics to both casual and semi formal events, which makes them the perfect buy. These stylish tunics can be pulled off all year long, as they can be worn under a jacket or coat. You can easily pair any one of them with leggings, or pants; and they will make for an easy yet stylish outfit.

Product Type

: Tunic Top

Size

: Vary

Material:Rayon

Design Type

: Semi Formal

Base Color

: Vary
Over 40,000 Satisfied Customers since 2014
★★★★★

I was looking for new Indian clothing I could wear to fancy events, and Chiro's had the nicest collection! There were so many options for different types of Indian clothing and they were all so beautiful. The customer service was excellent and they never fail to help find what you need. I walked out with clothing that made me very happy. 100% recommend!

Jimly Bora
★★★★★

Jigyasa is amazing. Her kindness, dedication and politeness coupled with beautiful and exquisite Saree/ Indian wear Collection is A+. I have always loved and cherished all my purchases from her. I highly recommend her.

Shweta Singh
★★★★★

Jigyasa has a good collection of Indian clothes. This is my first time buying with her but will definitely not be the last. She was very helpful and gave me many suggestions that helped me pick my outfit. Thank you


Swapna Surbhi
★★★★★

Jigyasa is awesome and kind. She was so accommodating and inviting. She was very knowledgeable on current designs and trends. We were looking for wedding/reception outfits and the selection she had was gorgeous and above all the quality of her outfits were outstanding! We highly recommend her.


Breanna and Priti
★★★★★

I have been shopping at Chiro's by Jigyasa since 2014! I have bought many lehengas and salwar kameez from her and have been satisfied with every single piece! She has variety of collections that are the latest trends! Her collections are always great quality and reasonable prices!
I have recommended Jigyasa's store to my in-laws for my wedding and everyone has been so satisfied! Thank you so much Jigyasa! ❤️

Sampada Xu
Several of our sarees come with stitched blouses. If the blouse is sticthed, the variant size is referring to the size of the Blouse.
If the variant says AllSizes, the blouse piece is unstitched can be stitched to any size.
When a product is available only in OneSize, e.g. accessories, the variant says OneSize.